Discover more from Office Hours with Ernest Wilkins
Office Hours Magazine is a new take on the B2B publication, focusing on the business of cultural industries. 
Over 2,000 subscribers
#12: The Marathon Continues 🏁
The Office Hours Interview: Dan Runcie
Dan Runcie deserves your attention. His newsletter Trapital is directly aimed at the business and strategy of hip-hop, a lane that's been sorely lacking in strategic analysis.
Question: Can you think of an industry that's been around for 40 years or so now that makes millions of dollars a year and influences popular culture globally the way hip-hop does? Now, can you think of any industry that even comes close to that annual revenue that doesn't have dedicated large-scale business reporting?
My thought on why this blind spot exists— based mostly on my work experience over the years — is that the business of hip-hop broadly seems to be looked at like an experiment that keeps accidentally stumbling upon wins. Think about how every time you see a story on a rich mogul, the underlying subtext feels like they're saying "Can you believe THIS?". Let's be honest, a lot of executives are surprised most rappers can even string a sentence together, much less think about their careers strategically and at scale. 
Their ignorance is your gain.
A glance at Trapital's mission statement:
" Hip-hop artists are some of our most successful business leaders, but most media coverage on them usually just skims the surface. Trapital solves this by digging deeper. Each story breaks down the strategic moves that shape the industry. As hip-hop's influence grows on society, we need a reliable source to explain the moves that drive the culture."
Point blank period, If you work in hip-hop, you should be subscribed to Trapital.
Nipsey Hussle has been on my mind every day since he died a few weeks ago. While a loss of any community leader is impactful, I truly feel Nipsey was a shining example of how the direct-to-consumer distribution strategy should be a bigger lane for musicians (and content creators overall). You recently wrote about Hussle and his DTC strategy, saying "Big name artists can rely on distributors and succeed. And DTC rappers like Nipsey can serve customers directly and succeed. The artists stuck in the middle are the ones to worry about."
Those artists stuck in the middle…what can they do to make the current state of the music business work for them?
It's all about focus. Artists can easily get stuck in the middle when they pursue options that don't align with a particular strategy. Just because Sicko Mode was on Spotify's RapCaviar playlist for six months straight doesn't mean that every rapper needs their hit single to do the same. If an artist knows their fanbase and its specific niche interests, then the artist should focus on attracting fans directly. RapCaviar should be a welcomed bonus, not a prioritized goal.
On the other hand, RapCaviar and other playlists should be goals for artists who rely on the exposure that comes from mainstream publicity, promo runs on mass media outlets, commercials with major brands, and other mass marketing opportunities  These type of artists would leave money on the table by focusing too narrowly on a specific niche.
It's pattern-matching, honestly. Luckily, there are plenty of successful examples on both ends of the spectrum. The hard part for artists is bypassing tempting financial offers that can steer them away from their intended strategy. 
A piece you wrote a few months ago focused on Drake's So Far Gone anniversary and the concept of "How Rappers Can Maximize Their Mixtape Anniversaries". Hip-hop is 40 years old, give or take, at this point. Any thoughts on how the industry can do better work of acknowledging its past?
Mixtape and classic album anniversaries are great, but they are more targeted toward the original fans. My 15-year-old cousin loves Drake but could care less about So Far Gone, for example. The most impactful efforts are both nostalgic and welcoming for younger fans. For instance, Straight Outta Compton achieved both. The biopic did well in the box office and stayed relevant to the youth with the "Straight Outta [your location]" social media campaign. It was also a good movie! Unlike All Eyez On Me, Notorious, and other hip-hop biopics that were forgettable. 
…Actually, I have a request: Can someone remake the 2Pac and Biggie biopics?? If Hollywood can make two biopics on Steve Jobs then we can get another set of films on Big and Pac! The projects deserve a good director. What's Ryan Coogler up to after the next Black Panther movie??
In your opinion, what's the future of record labels? You get handed the keys to…let's say Def Jam tomorrow. What's the first thing you'd do? 
If I'm Def Jam CEO tomorrow, my first move is to split the record label. It should still keep its record label running for popular signed artists like YG and Logic, but its need a flagship product that attracts those who want to maintain ownership. 
The change sounds drastic, but the label already has the resources to make it happen. "Rap Camp" is Def Jam's new program for its cohort of recently-signed young artists. It offers studio time, publicity, placement on a compilation album and more. But it needs to open the opportunity to unsigned artists to attract a wider (and likely stronger) base. Rap Camp is not currently seen as a true competitor to UnitedMasters, but that would change.
My next move is to find ways that Def Jam can leverage its longstanding name in hip-hop. Despite the label's lower profile today, it maintains a strong brand value and association in hip-hop. This label was home to countless A-listers in hip-hop. Def Jam was once popular enough to sell a video game where Joe Budden was a professional wrestler! Let that sink in... 
Share one fact you think Office Hours readers might not know.
Nipsey Hussle's Vector90 co-working space in Los Angeles only cost $49 / month for students, $99 for those under 25, $149 for neighborhood locals, and $199 for everyone else. The pricing reflects its intent. As a comparison, the closest WeWork co-working space is $400+/ month.
Got anything to promote? 
Yes, sign up for my Trapital newsletter! It's the best way to support my work and stay up to date on hip-hop business and strategy.
Where can readers find your work?
---
YOUR HOMEWORK FOR THE WEEK: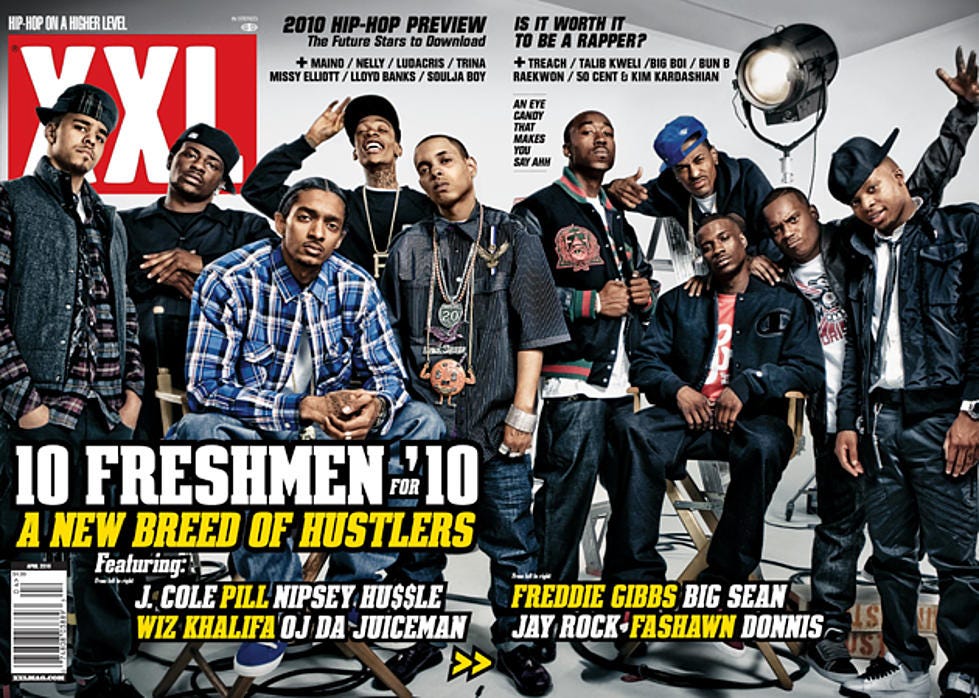 THE OFFICE HOURS XXL FRESHMAN POLL: 
http://bit.ly/OfficeHoursFreshmanPoll
The XXL Freshman list has become a pivotal marker for the state of rap culture over the last decade. I think it's time we start doing better at archiving the blog era of hip-hop (2008 - 2014) better than we did the previous eras. So here's an attempt to do just that. An official best-of, voted on by people who actually know what they're talking about. There's already been 100+ votes, so don't miss your chance to weigh in. The results will be featured here in Office Hours either the week they drop the 2019 list or the week after. Drop it in your group chat, post it to KanyeToThe—I see y'all, thanks for subscribing! — , whatever you gotta do. More votes = more data and we love data 'round here.
Dan Rys' 2013 XXL interview with Nipsey Hussle is worth your time.
---
TUNES:
This is the best Nipsey Hussle "essentials" mix I've come across. If you've never heard his music before, start here:
 106.9 WQRL - THE CURL
I've gotten feedback that people want to listen to my playlists on Apple Musico The 106.9 WQRL Trilogy is now on Spotify and Apple Music!
Context: Feeling inspired by the return of prep fashion, Virgil at LV —   it's wild to think that a director at a major fashion house has eaten Harold's Chicken, right? —  and Black Market Vintage's Instagram over the past few months, I wanted to recreate the feeling of black ambition and the upward momentum of the black middle class. Not being able to do that, I managed my expectations and created a playlist that sounds like a radio station playing the best black music from the 70s and 80s with no commercials. The obsession quickly grew to three playlists:
The Curl is everything from R&B to soul to electro-funk to disco to whatever they were listening to at FAMU Homecoming 1987.
BEST FOR:
CLEANING YOUR HOUSE, INTRODUCING LITTLE KIDS TO GOOD MUSIC
The Relaxer is my humble attempt to make the single best Quiet Storm compilation of all-time. 
BEST FOR:
WORKING LATE, SEX
Saturday Night is the Modern Soul/Northern Soul/Funk "mix show".
BEST FOR: GETTING DRESSED BEFORE GOING OUT,  PRETENDING YOU HAVE MORE TASTE THAN YOU DO.
If you enjoyed what you just read, forward this to a friend and tell them to sign up for the newsletter! Office Hours is produced in Chicago, Illinois. E-mail me here.