#51: Welcome to 1099
1099 is a celebration of the way we work now.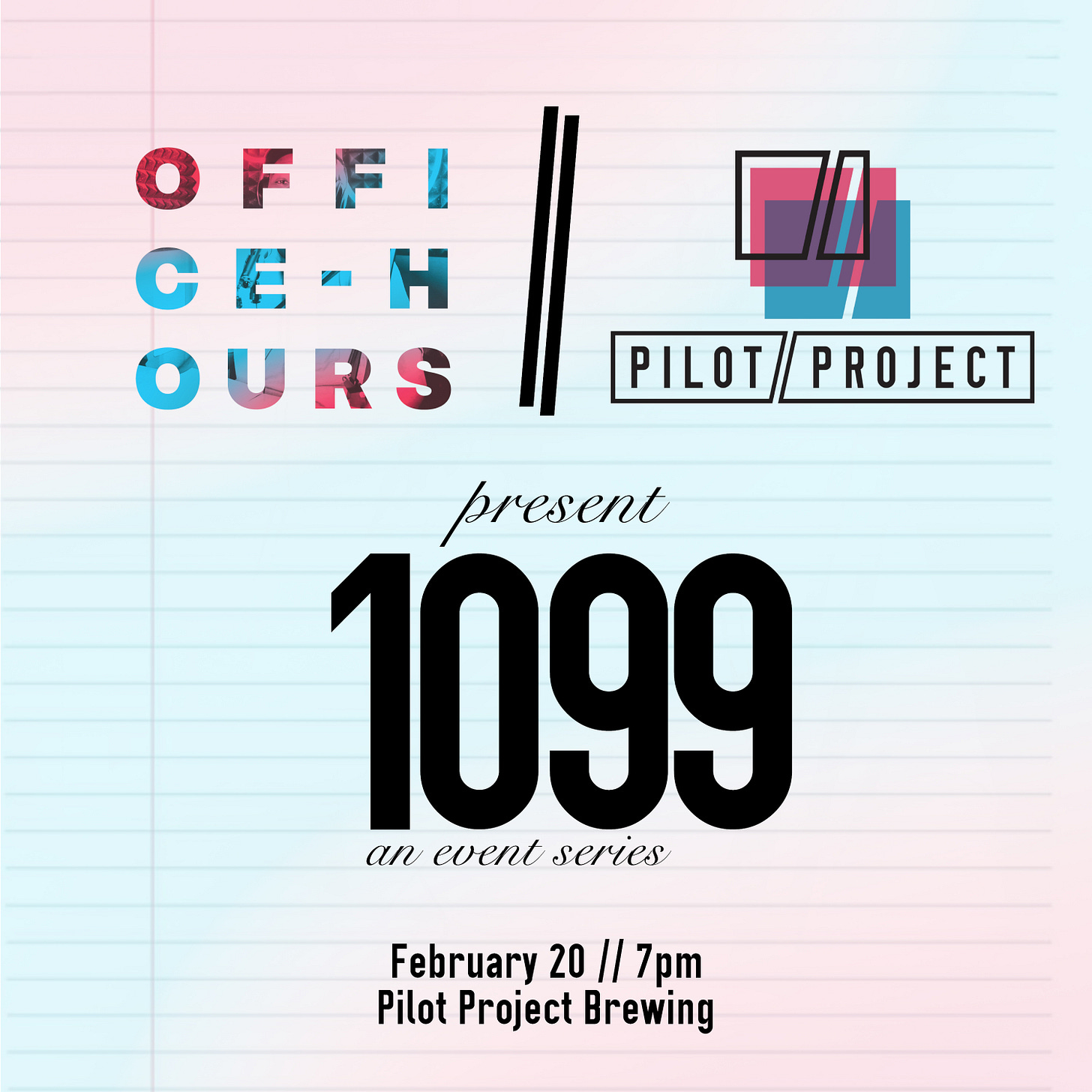 NEW THING: THE 1099 EVENT SERIES
In partnership with Pilot Project Brewing, a brewery incubator and co-working hotspot in the Logan Square neighborhood, Office Hours with Ernest Wilkins presents 1099, an quarterly event for 21+ freelancers.
It's Thursday, February 20th and the fun starts at 7pm. Consider it our interpretation of a networking event we'd actually want to go to. 1099 is free to attend and guests can expect speakers, music, community and a lot of cold beer!
Why focus on freelancers? There's a lot of us! This handy infographic — compiled by Upwork and The Freelancer's Union as part of their 2019 Freelancing in America study — shines some light on the general state of things. 57 million Americans freelanced last year!
(I've provided a link to the whole study and this infographic in Homework Section below)
Why Chicago? Chicago was recently voted the 7th best city for gig economy workers to find work and the city has made strides in changing the way America works for the last 100 years or so. (It's still happening, by the way.) Also, I live here already.
Why an event? At the risk of getting too theoretical with it, event promotion is my way of helping others. I believe that people succeed with access to better resources and information is a resource. I believe that if I can create fun and safe places for broader cultural exchanges to happen, then more people will get access to resources they need and will live better lives.
Anyhoo, if you freelance, are over 21 and live in Chicago, you should join us on for the first 1099!
---
As a valued subscriber to Office Hours, I'm offering you first access to RSVP for our 1099 event. Click the button to RSVP! Don't wait, once we hit capacity, that's all folks!
---
A brief thought on the Super Bowl ads:
The four words I'd use to sum up my thoughts on the 2020 Super Bowl ads?
Intellectual Property Is Everything.
CPG powerhouse Procter & Gamble released the Avengers: Endgame of cleaning your house piling all of their characters into an ad, Discover Card essentially released a Youtube supercut of beloved characters saying either "yes" or "no", we saw damn near every science fiction character pull up to Wal-Mart to cop goods — blink and you'll miss a brief appearance from the Kid from Dhalgren — and Tide did a multi-program, multi-commercial ad featuring Charlie Day trying to clean his shirt that felt like an old Twilight Zone episode. Why wouldn't they just let the man clean his shirt?
It was cool to see the Yee-Haw Agenda reach such a global moment (go back and read #7 if you don't know what I'm talking about) and the ad about 49ers coach Katie Sowers was cool, mostly because Sowers herself is cool. Overall, I couldn't shake the sense that "Super Bowl ads used to be better, right?" but yesterday morning, I watched about 30 spots from the last 30 years and it appears that Super Bowl commercials…have always kinda sucked? Know the ledge, people: That reminiscence bump is a real thing!
YOUR HOMEWORK FOR THE WEEK
TUNES!
Frankie Knuckles' Pride Day '85 Mix. Live From Belmont Beach in Chicago! This is one of the best mixes I've ever heard in my life.
Here's Part 1:
Part 2:
If you enjoyed this story, forward to a friend and tell them to sign up for the newsletter!
Office Hours is written by Ernest Wilkins. Follow me everywhere @ErnestWilkins or email me here.