#145: Youth Culture Killed My Dog
It's Monday! It's Monday.
Hi, friends! It's Monday! It's Monday.
Playing with the format a bit today. E-mail me your thoughts and feedback?
Here is a quote to start:
"If you're not willing to get your hands dirty for a couple of years, it's probably not going to work out.

If you're not willing to write every single day for the next ten years, it's probably not going to work out.

If you're not willing to paint every single day for the next god knows how many years, it's probably not going to work out.

You've gotta put yourself out there. Over and over again."
---
MARKETING THING: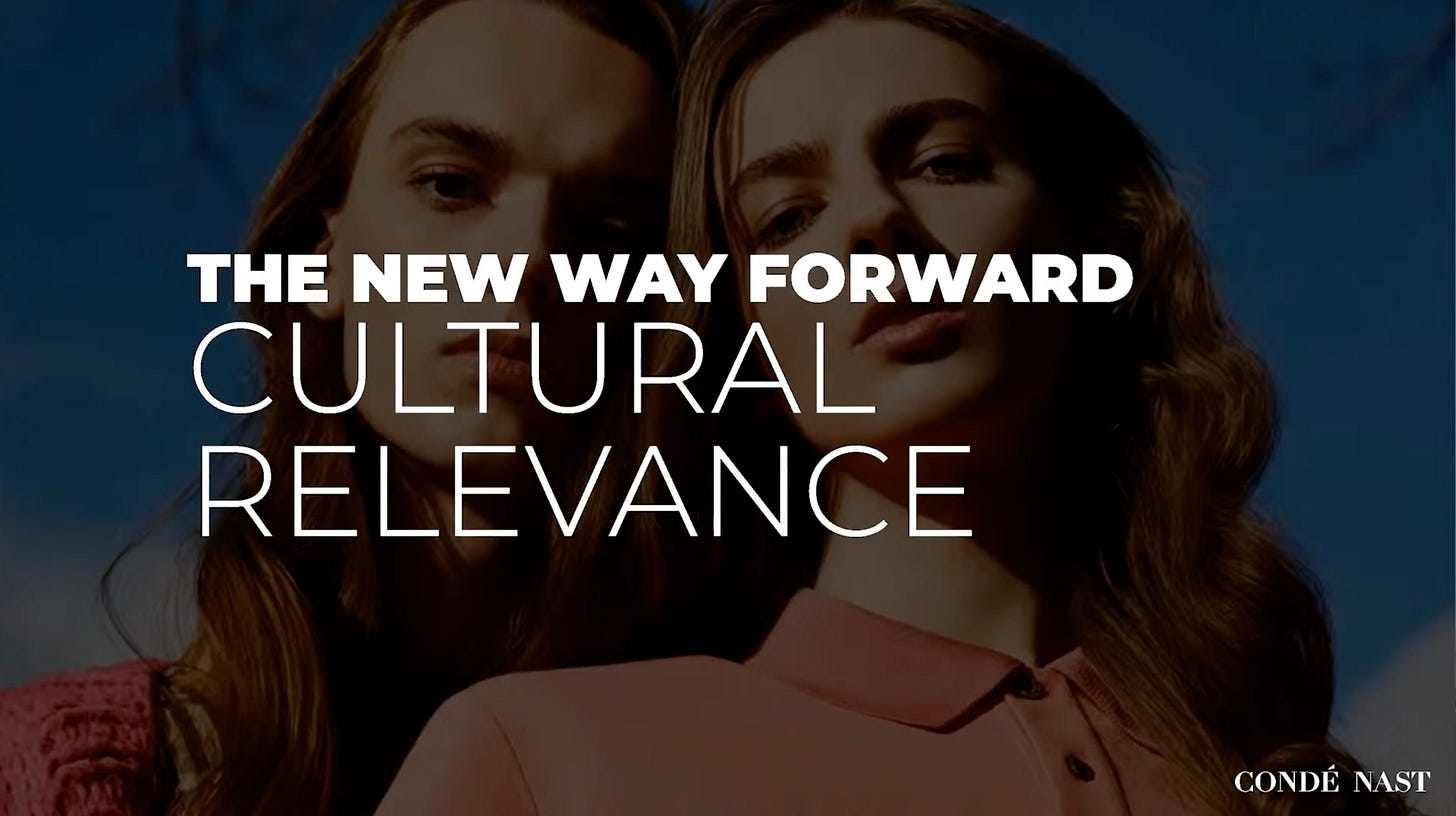 Marketing people know that metrics are essential to the work we do. Metrics are the measurable values used by brands to understand how effective campaigns are.
One of the newest metrics on the scene isn't new: I wrote about a year ago this week: Cultural relevance and momentum.
Share of culture is the metric that I believe B2B and B2C brands should aim to win going forward. 
While the concept is over five years old, the share of culture as a metric seems to be gaining popularity amongst the expense account crowd: Based on their Adweek presentation, Conde Nast appears to be betting the farm on it, partnering with Deloitte to create their take on the metric. 
I'd also recommend those who speak marketing read the study they put together. 
What is share of culture? 
Long answer: Read this and this and this. 
Short answer: Originally coined by creative agency Bradley and Montgomery, share of culture is a metric of social influence that extends beyond basic stats like likes, shares, and retweets.
The difference between share of culture and other metrics is that share of culture forces brands and agencies to learn and understand the nuances of conversations in the specific context of your ideal consumer's culture. If we accept that the one-size-fits-all marketing approach has been dead for over ten years now, consider this the final nail in the coffin.
Why does the share of culture metric matter to my brand? 
Every market has a culture—nothing surprising there. Share of culture allows for a deeper dive within cultures that can translate into more sales or engagement. People who belong to a culture share values, a common language, shared history, traditions, and media. Share of culture matters because it means that your brand or product holds weight in your market, regardless of how big the market is.
Consumers rely on relationships with brands to help define their identities. Our relationships with brands are extensions of one's personality. The brands we choose are the tools we use to say who we are.
The brands that keep kicking everyone else's asses are the ones that get that and finesse it to put themselves at the top of their market culture for generations. To capture share of culture, advertisers must engage and integrate into the culture of their market. It used to be that a brand could buy its way into a market share. No matter what anyone tells you, you cannot buy your way into a culture you are not a member of. You can buy media, you can buy influencers, you can put on events, but at the end of the day, you can't buy cool.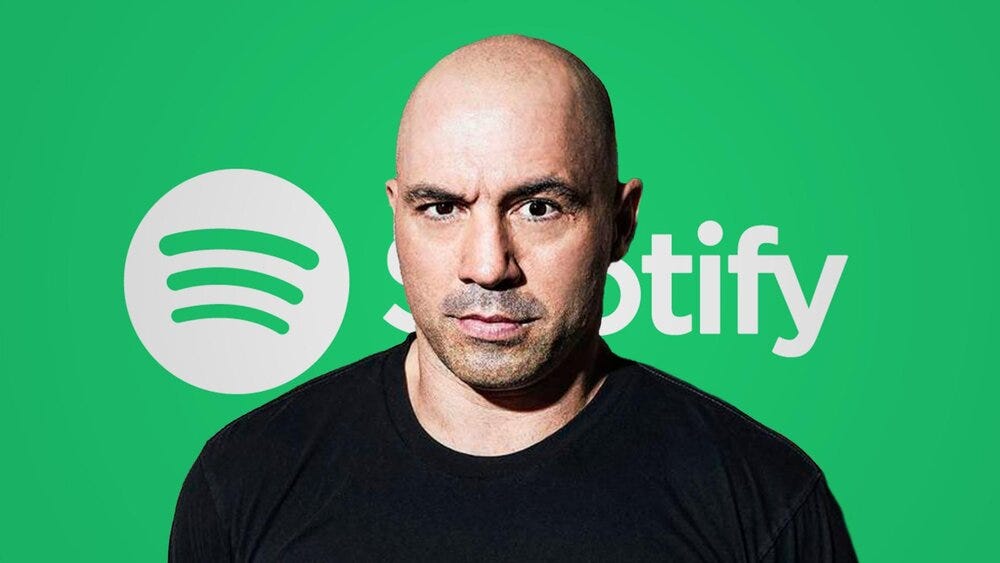 To use an anecdotal example: Look at the world of podcasting. Instead of taking the time to integrate themselves into podcast culture, Spotify said fuck it and paid big bucks to secure the biggest names in podcast culture. The results? A company that now has a dominant share of voice in the podcast market but no ownership of the cultural share around podcasts. Just because the platform owns Joe Rogan's pod, it doesn't mean I will immediately think of them when listening to a podcast. Podcast fans don't all listen to Joe Rogan or have any interest in ever tuning in to his podcast. This is also a potential explanation for why Luminary and all those other prestige podcast brands aren't as popping as you'd assume they would be, given the exclusive shows and talent.
Why should I care? 
Your marketing plans probably need more work. Every person is different. We know that. People have other interests. We know that, too. What share of culture helps to identify is the SPECIFIC CONTEXTS potential customers engage in every day. 

I'm going to freestyle an example: Let's say your product is for folks who lean left politically. You might slap a pic of Stacy Abrams or AOC in your deck, next to a few pics of attractive people at a protest, and keep it pushing from there. The thing is, winning culture share means you have to dig deeper because your data isn't going to be able to tell you how to deal with cultural shifts within the "left-leaning folks" market in a proactive manner. Yes, your buyer persona is "interested in social justice," but how interested? Is she a member of her local DSA chapter, or does she align more with Blue Dog Democrats? Is she one of those confusing types that vote liberal but dates a Trump voter? Does she fundraise for specific organizations or volunteer for a local campaign, or does she get a sense of satisfaction from posting stuff that triggers her conservative friends?
How can my brand own share of culture in our market? 
Check back here next week. 😉
---
CULTURE THING: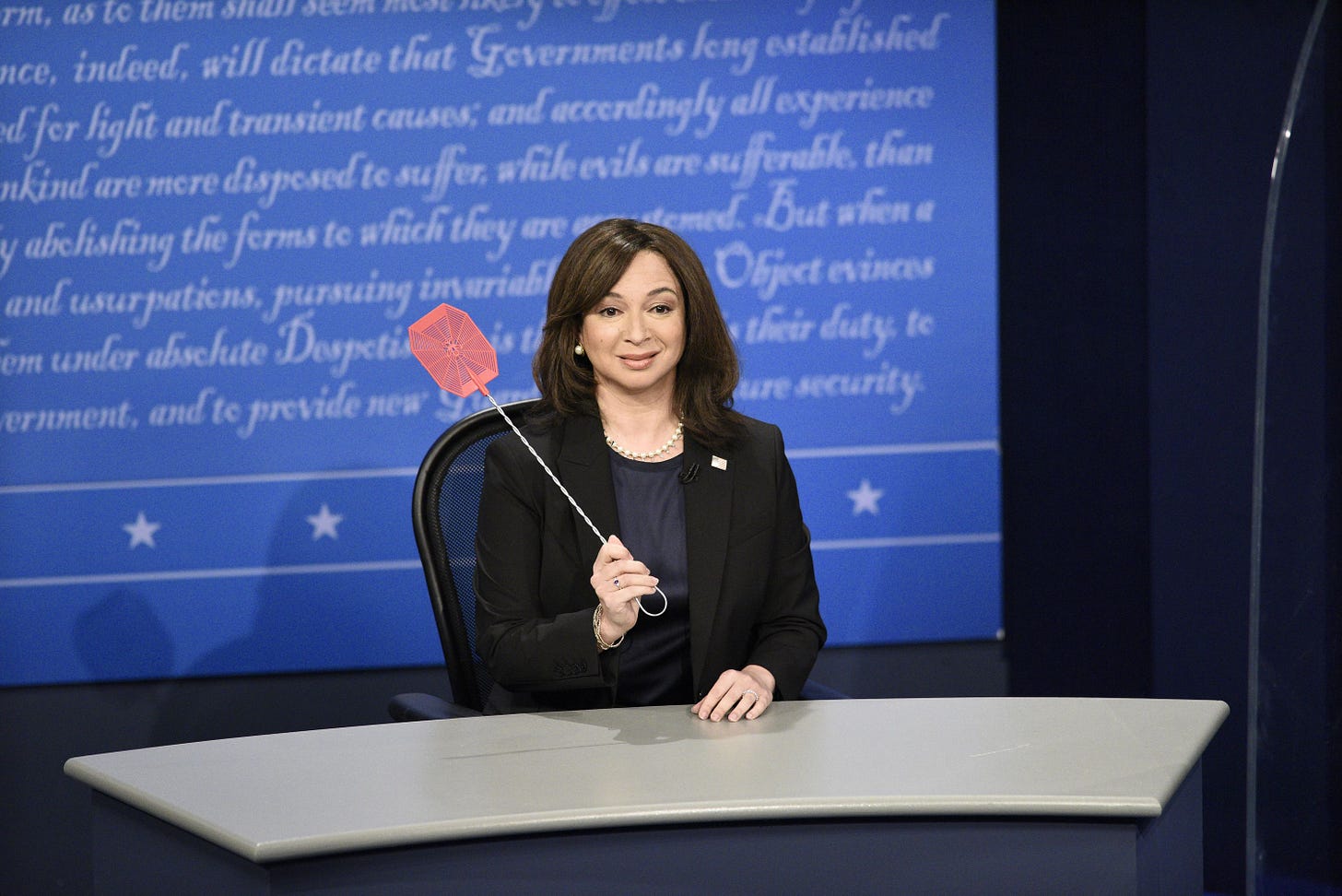 A clear example of cultural fossilization to me is how Americans view cultural institutions like SNL.
My loose philosophy is that all American cultural institutions are measured by when you grew up. I believe the Fallon/Fey/Ferrell/Hammond/Meadows/Morgan/McKay regime of SNL is excellent. I think this not because they did better work than the Downey/Rock/Sandler/Farley/Hartman era (history is clear that they did not), but because I was 13 years old in 1998.
That cultural fossilization is important to remember when people start complaining about how something used to be better, but now sucks. I will go out on a limb here and say that if we're just looking at lifetime average, the show has been terrible more than it's been transcendent. Exhibit A:
(REMINDER: THIS AIRED IN 2000!!!)
Anyway, two articles today speak to this specific topic. This 2018 Caity Weaver feature about Maya Rudolph, one of the best comedic performers alive today. is very very very good. If you disagree with any of my opinions in this newsletters, you'll be happy to know that the other article I'm sharing today is about why facts don't change your opinion.
---
MUSIC THINGS:
RIP Eddie Van Halen! We stan a Southeast Asian cultural icon!
Here's a fun find: A Van Halen performance on Japanese TV from 1978, the year the band released their self-titled debut.
The debut Van Halen album includes one of my favorite songs ever. If you've never listened to the debut, change that TODAY.
---
PLAYLISTS:
UPDATED:
NEW:
Cool Sports Bar: If you haven't figured the gimmick out yet, if I owned a Cool Sports Bar, this would be the bar's playlist.

FALL DAY DRINKING PLAYLIST: Put this on when day drinking during the Fall.

#NEWFIFAOUT- Cool newish music to listen to while you play the new FIFA. Also doubles as great Prem League Saturday Morning watch music.
HOW TO HELP BLACK LIVES IN 30 MINS OR LESS:
What if I told you that for only 30 minutes a week, you can help Black lives, no matter where you live or how much money you make? Here's how:
Carve out 30 minutes in your calendar this week.

Do one thing in that 30 min window. You can click a link or make a call or donate or sign a petition.

This weekend, share the above link with your three closest friends. If you have a group chat, drop it into your group chat!

Repeat the following week.
As a bonus, now you won't have to lie to your kids or grandkids about being on the right side of history! You can be all like, 
"Children/Grandchildren, our family doesn't tolerate that racist shit. If anyone says otherwise, send them to me."
 and you'll sound all tough and cool, and your kids or grandkids will respect and love you and not want to be racists…guess what? That means less racist people in the future!!
---
SUPPORT THIS THING!
Did you know that for the price of a shared appetizer and two rounds of drinks, you can support a self-reliant, Black-owned media startup?
 Become a paid supporter of the newsletter on an ongoing basis today: 
Can't do a paid subscription right now? If you enjoy what you read, consider showing your support for my work with a one-time donation!
---
Office Hours with Ernest Wilkins is written and curated by Ernest Wilkins.
Follow me on Twitter/Clubhouse/IG @ErnestWilkins.
Want to work with me? Send me an e-mail.