Jul 8, 2020 • 1M
#114: In Search of a Colder Ice
(Chef Cliff Rome of Chicago's Peaches Restaurant, from the
Overserved podcast
)
CULTURE THING:
A question for the Black writers and journalists reading this:
What does "making it" in media look like in 2020? 
If you asked me at the top of this year, I would say that it meant a few things: A monthly column somewhere, a book deal, or a chance to interview a global megastar. If I got it shaking, maybe I'd write a New York Times Letter of Recommendation once or twice.
We're all trying to be players out here, aren't we? We all want that recognition. The "corner office." The New York Times feature. The invite to that event. That conference. That party. That moment when we finally feel like our contributions have value in society. The one that will ultimately make us feel validated, at last.
Vice (emphasis mine):
Livingston found it difficult as a Black man to navigate the predominantly white newsroom. He was often mistaken for another Black male in Metpro, who was taller than him and had a different skin tone, Livingston said. ("Him and I do not look alike.") Slowly, Livingston started to feel isolated. The desire to breed competition amongst the Metpros ran counter to everything he thought he knew about journalism. He was eventually told in an evaluation that he seemed to lack interest. "It got me thinking: It's gotta be something wrong with me. Because this is theLos Angeles Times," Livingston said. "I just start[ed] losing confidence in myself. And it's like, If this doesn't work out, what happens to me? I was one of those people who—my self-esteem and my self-identity revolved around being a journalist. So if I'm not doing well, then that really sets a big blow to who I am." Livingston said a sense of imposter syndrome kicked in, and he started to struggle with depression. The Times had left him "angry, disappointed, let down and lost," he said. Before he left, a top editor referenced a metaphor to Livingston that stuck with him. It was about seeds and soil. "If the seed is not growing in the soil, then what is the problem? Is there something wrong with the soil? Or is there something wrong with the seed? He implied that there's something wrong with the seed, and the seed was me, because there's no way that the Los Angeles Times could be at fault," Livingston said.

"Apparently," he added, "I'm just a bad seed."

Livingston, who turns 31 this week, no longer works in journalism.
I had a similar reckoning with journalism a long time ago. I faced the reality that the type of ambition and more critical, the kind of recognition that I once desired from the media industry was no longer a realistic pursuit. I hightailed it out of the industry and all I had to show for it was a depression diagnosis and a big case of imposter syndrome about my ability to be a "good journalist", or even a good writer at all.
After a while, it occurred to me that my ambitions were misguided. Here's how I saw it: If the media industry consistently tells Black writers that it doesn't value our opinions, why am I still using recognition from this industry as the benchmark for my successes? With that shift in perspective, I never looked back.
We can exist in this industry. We can survive in it. We might even be able to thrive in it, but it will never appreciate us.
Me doubling down on this newsletter is me accepting that reality and choosing to succeed despite it. The hope is that Office Hours acts both as a motivational tool for my peers ("Hey, you can do this, too!"), and well as a source of inspiration for the Zoomers reading this in college trying to figure out what the hell to do next.
While directly intended for Black people, this message is one that I hope is embraced by all:
If you want to be successful in media going forward, you need to start your own platform right now. You are responsible for the money these companies pull in. They don't have the power without your work. Build your own thing to earn what your work is worth vs. getting lowballed or even worse, working for free. The opportunity to "make it" on your terms exists for all. I mean, aren't you tired of begging for a table scrap of recognition of your decades of experience? Do you believe that your ice is just as cold as theirs is? If so, now is the time to prove it.
---
MUSIC THINGS: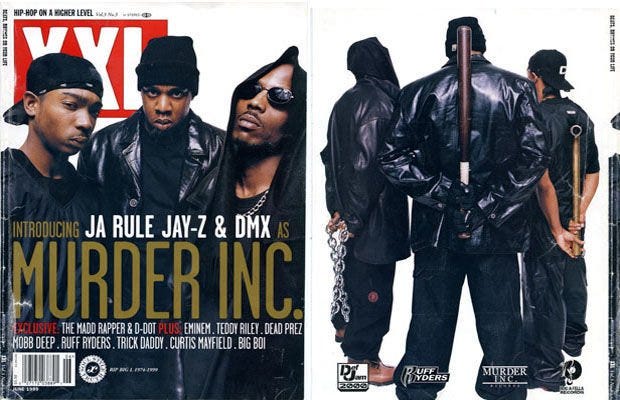 FUN RAP FACT OF THE DAY: Did you know that Jay-Z, Ja Rule and DMX were in a group together? The group was named Murder, Inc. (yes, like the record label) and they only officially released two songs. Listen to both of them below.
I'm making over $800 per month with my music— almost exclusively through Spotify. This is up from $400 per month last year.

I don't tour, I don't sell merch and I'm not on a major label. I'm just a small indie artist making music in my evenings— and Spotify is making that possible.
Earning $800 / Month With Spotify (Steve Benjamins). A good perspective on the current streaming climate from an artist you've probably never heard of.
---
MARKETING THING:
Determine what's engaging for your fans vs. what's interesting to the media: 

SeatGeek's Flaherty noted in an interview that the startup, which has over $2 million in funding, has found that its informative blog posts with information for upcoming concerts and events see the most engagement with users and potential users. However, feature stories that the company can create with sports-related media outlets like Deadspin with custom data from its ticket engine can have the biggest impact in terms of building brand recognition. Although many startups believe they can simply post stuff to their blogs and then spoon it out to journalists and bloggers, media members are always much more interested in access exclusive data sets, which they can build unique stories around. That's why having a strategy for engaging with your potential customers on the blog as part of a larger communications strategy, which also includes traditional public and media relations, is essential. 
Becoming Your Own Media Company: 5 Content Marketing Tips.
Written in 2012, still relevant today!
---
SIX EASY STEPS TO HELP BLACK LIVES:
Carve out 30 minutes in your calendar this week. Do it now!

Click a link and make a call or donate or sign a petition.

This weekend, share the link with your three closest friends and say, "Hey, I'm (calling/donating/signing a petition). If you're interested, here's the link!" If you have a group chat, drop it into your group chat!

Bookmark this link.

Repeat the following week.
Do it while you online shop, do it while you're on a boring call, hell, you can do it while you poop, I truly don't care! Whatever it takes! It is truly the absolute least that you can do!
---
ANNOUNCEMENTS:
Paid subscribers: A heads up that I'm donating 50% of the June subscriber fees across a few charities:
How To Support Office Hours
Here are three easy ways that you can support this newsletter!!!!!
Become a paid supporter of the newsletter on an ongoing basis via this button:
Share this newsletter with a coworker/friend/loved one!
Can't commit to an ongoing subscription right now? Show your support for my work with a one-time donation!
---
Office Hours is written and created by Ernest Wilkins.
Follow me on Twitter/IG @ErnestWilkins.
Want to work with me? Send me an e-mail.
Office Hours with Ernest Wilkins is a production of W&A, LLC.