May 11, 2020 • 34M
#90: House Party 1998
CULTURE THING:
If you read last Monday's newsletter, you got an exclusive free preview of writer/sports historian Jack Silverstein's Q&A with Richard Esquinas, the man who allegations rocked the sports world in 1993, when he wrote a tell-all alleging that Michael Jordan owed him 1.25 million dollars over a bet.
Up top today is a short audio interview I did last week with Silverstein. We chatted about the Q&A and his thoughts on #TheLastDance 's accuracy and as an added bonus, he makes the strongest case I've ever heard for ignoring any and all conspiracy theories behind Jordan's first retirement.
---
MARKETING THING: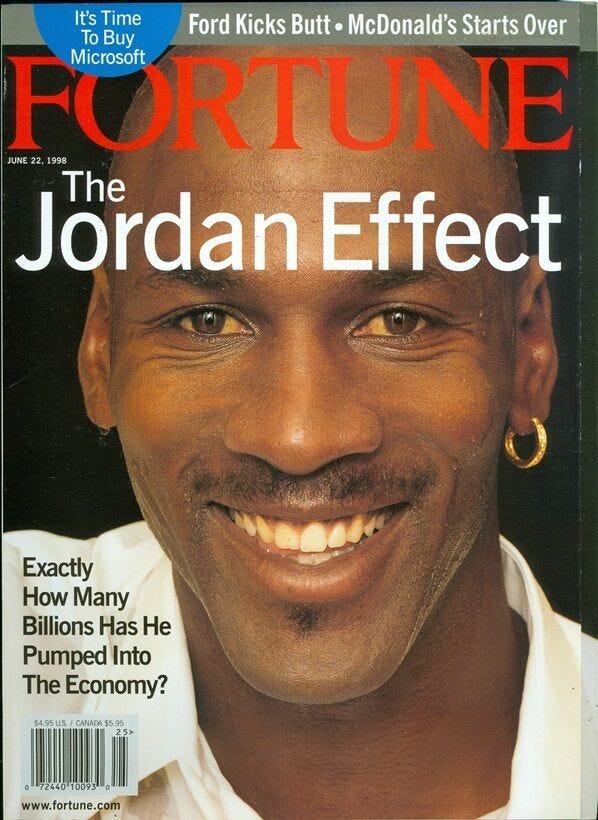 Back in 1998, Fortune Magazine attempted the Herculean task of trying to determine how much money Michael Jordan put into the U.S. economy.
"Where to begin? With the easy stuff--the revenue attributable to the Jordan "brand." His sports videos have sold over four million copies--including the all-time No. 1, Michael Jordan: Come Fly With Me. Together, they have generated revenue of $80 million. Jordan has inspired about 70 books--Rare Air, The Jordan Rules, Hang Time, and I Can't Accept Not Trying are foremost among them. Publishing industry executives estimate that together, those four books generated nearly $17 million in sales. Michael Jordan cologne, created by the designer Bijan, has so far had sales of $155 million worldwide, according to the designer's company. Hanes expects sales of Michael Jordan underwear to exceed $10 million annually. Add those figures to Space Jam ($230 million at the box office and another $209 million in video sales), and we've got $701 million in revenues, not including shoes and sports apparel, which we'll get to shortly."
For the sake of fun, I'll give you a little spoiler: The final number is more than $5 billion. A lot more.
---
MUSIC THING:
What a horrible weekend for black music. The community lost Little Richard, Betty Wright and Andre Harrell. It's always a tragedy when an elder passes, but I find myself really hurting from these three. All three were completely unique, innovators and inspirations.
Little Richard's 1966 Paris show is one of the best live concert performances of all-time.
Read Danyel Smith's 1996 profile of Andre Harrell. Ghetto Fabulous

You've heard Betty Wright's music, even if you don't think you have:
---
Announcing: Brands to Watch
Happy Monday! A reminder that starting with Office Hours #100, this newsletter will shift to a tiered system.
Free subscribers will still get access to the podcast and the daily link newsletter. 

Paid subscribers will receive the podcast, the daily link newsletter and will now receive exclusive articles like the Brands to Watch report, a monthly deepish-dive on a challenger brand that I think does really cool/innovative stuff.
As a freebie, here's the Spring/Summer 2019 Brands to Watch report. As always, thanks for reading and subscribing!
---
How To Support Office Hours
Here's three easy ways you can support this newsletter!!!!!
Share this newsletter with a coworker/friend/loved one!
---
Until tomorrow…
WASH YOUR HANDS! STAY IN THE HOUSE! CHECK ON YOUR LOVED ONES!
Office Hours is written by Ernest Wilkins. Follow me on Twitter/IG @ErnestWilkins or send me an e-mail.